Rutgers New Jersey Medical School Professor Ellen Townes-Anderson donated $500,000 from an inheritance to support students and postdoctoral researchers balancing school and families.
Ellen Townes-Anderson can quote statistics on women in science without skipping a beat. A professor of pharmacology, physiology, and neuroscience at Rutgers New Jersey Medical School in Newark, she'll tell you that each year, 43 percent of new mothers leave their professions in science, along with 23 percent of new fathers.
Articles in numerous prestigious publications—The New York Times, The New Yorker, Scientific American, Nature, and from the National Academies of Sciences, Engineering, and Medicine, to name only a few—urge institutions and organizations to create policies to support new working families. She'll tell you the U.S. joins only six of the 193 United Nations countries that have no national paid family leave. In case you're curious, the other countries are the small, undeveloped island nations of the Marshall Islands, Micronesia, Papua New Guinea, Tonga, and the republics of Nauru and Palau.
Townes-Anderson does more than rattle off statistics, however. Her actions speak much louder than her words. She recently donated $500,000 of an inheritance to establish the Giuseppina Raviola M.D./Ph.D. Endowment, named after her graduate school mentor, to support postdoctoral researchers and students earning advanced degrees at Rutgers New Jersey Medical School.
She first acted on her interest in supporting junior scientists by creating a new mothers' lounge, where moms can go to breastfeed or simply take a much-needed break. The lounge is open to students, postdocs, staff and faculty, and visiting lecturers—anyone who needs it. "I was at a meeting at New Jersey Institute of Technology when the staff showed me their lactation lounge," she says. "It's a lovely space with a rocker and running water. I knew immediately we needed something similar."
Her gift will be used for expenses, such as stipends while new mothers are on leave, childcare, technical support, and other expenses that arise. "So far, we hope to be able to help one or two families a year," says Townes-Anderson, who is also an associate professor of ophthalmology. "Several coworkers and administrators have expressed interest in donating, so we're hoping to increase the number of those we can help."
Townes-Anderson is passionate about helping these young researchers because she knows firsthand exactly what they go through. She always loved science, so after college she started in a doctoral program at UC Berkeley, but eventually she quit. "In those days, there was no women's movement and no female role models," she says. "Women didn't become Ph.D.'s, and they weren't scientists in academia if they had families. They were lab managers and supervisors."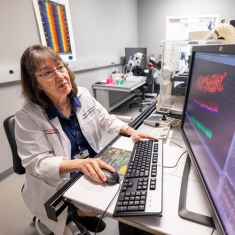 She got a job in an electron microscopy lab at Harvard and later went to work as a technician at Boston University School of Medicine. There she did have a role model: a woman from Italy, Giuseppina Raviola, who was an M.D./Ph.D. with a family. Townes-Anderson began to think maybe she could turn her love of science into an academic career. She asked Raviola if she could be her graduate student and enthusiastically restarted her training.
Just as she was finishing her doctorate, she became pregnant. Raviola gave her three months of paid family leave. "I had been so focused on my career that I forgot how enjoyable being with family was," she says. "And I came back even stronger. I'm not sure I would have stayed in science if I hadn't had that break."
Townes-Anderson has authored numerous articles and became the first woman to be tenured in twenty years in the Department of Physiology and Neuroscience at Cornell University's Weill Medical School. She also was one of the first two women to be tenured in the Rutgers New Jersey Medical School Department of Neurology and Neuroscience.
Townes-Anderson recalls a female student who came to her years ago in tears because she was required to go back to work only six weeks after having had a Cesarean section. "Her boss, the principal investigator, told her he needed her back in the lab. But she wasn't physically or emotionally ready," Townes-Anderson says. "Legally he was correct, but I wanted to help her in some way."
Postdoctoral family leave at the Rutgers New Jersey Medical School currently is six weeks. The Giuseppina Raviola M.D./Ph.D. Endowment will help expand that leave and other support to at least equal NIH standards.
Along with helping postdoctoral researchers and students with families finish their training and get into the workforce, she says her donation is in line with the Rutgers vision of building a diverse and accepting community. "If we don't support young parents, we're not supporting diversity," she says.
"I love my career, and I love having a family," she says. "For some women it's too difficult to do both. That's why it's imperative that we support these young talented scientists. They need our help."
This story originally appeared in the summer 2023 issue of Pulse magazine, published by the Rutgers New Jersey School of Medicine. Click here to view a video that accompanies the article.